WAY TO JAGESHWAR JUNGLE LODGE FROM JAGESHWAR TEMPLE COMPLEX.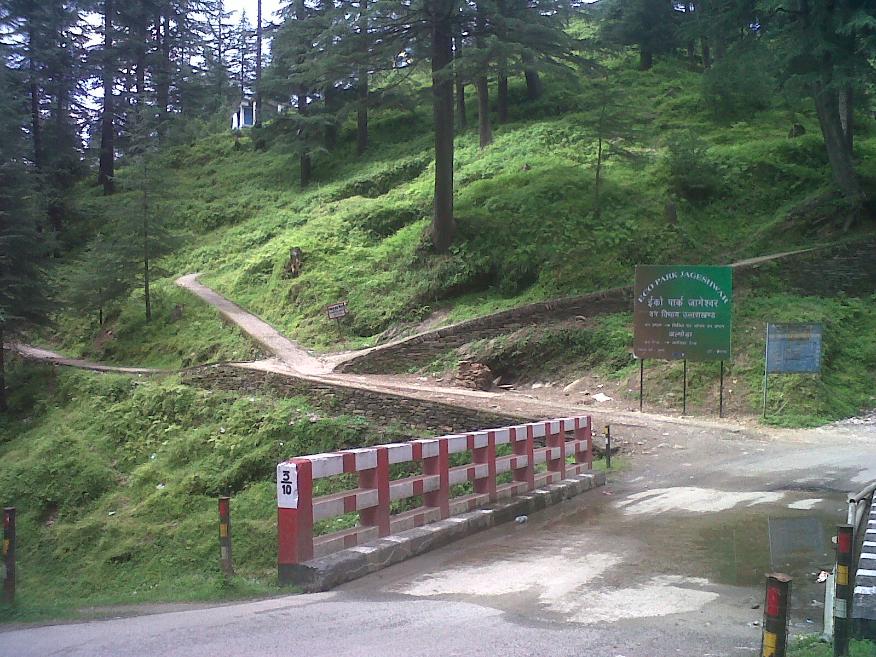 On reaching Jageshwar, please inform us to collect your luggage & we will arrange to send your luggage in your room. We can also arrange pony-ride for you to our lodge (on prior intimation).
As we said earlier Jageshwar Jungle Lodge is located near the dense and protected Deodar/pine forest of Jageshwar Herbal Garden at Jageshwar and it is very near to the origin of holy Jata Ganga River. The lodge is approx. 25 minutes walking distance from the Jageshwar temple complex. This walk to the lodge is parallel to the holy Jataganga river and very comfortable.
Way to get into Jageshwar Dham
By road: Jageshwar is well-connected to Delhi by road, and many tourists use the drive option to make their journey. The scenic route from Delhi to Jageshwar, through Corbett Park and Ramnagar is 406 km long, where as another route via Haldwani and Kathgodam is 380 km long.
By train: The nearest train station is at Kathgodam, located about 126 km from Jageshwar. Buses and taxis are available from the train station to reach the site.
By air: Take a flight to Pantnagar, which is located 20 km from Haldwani. Further, taxis and buses are available from Haldwani to Jageshwar
Distance from Major places to Jageshwar Dham
Delhi to Jageshwar – 380kms
Ranikhet to Jageshwar – 83kms
Binsar to Jageshwar – 54kms
Nainital to Jageshwar – 105kms
Kathgodam to Jageshwar – 126kms
Jim Corbett National Park to Jageshwar – 171kms
Haridwar to Jageshwar – 355kms
Almora to Jageshwar – 37 Kms
Haldwani to Jageshwar – 131 kms.